Industry Leaders Faceoff on Sports Rights Investment and Digital Transformation
29 Oct 2018 - 1 Nov 2018
Asia Video Summit 2018, Hong Kong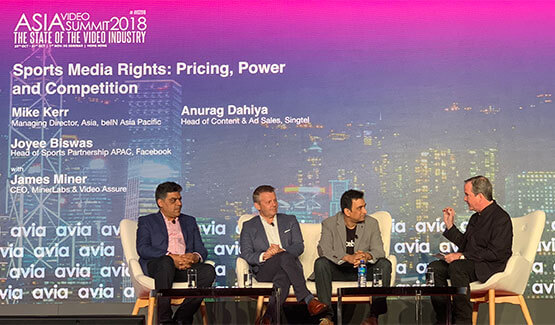 Sports fans spend more and more time accessing content through digital channels with 37% of live sports viewers watching live games on a device other than a TV (source: Adobe).
James Miner, our Video Assure CEO moderated the sports panel at the Asia Video Summit (formerly the CASBAA Convention) with industry luminaries from beIN Sports, Facebook Sports, and Singtel.
The conversation centred around sports content, sports rights and distribution in today's digital world where fans connect and view content anytime, anywhere, on any device. There were lively discussions about the cost of buying sports rights and its sustainability, revenue strategies, content challenges, video streaming and quality.